What is UX Coaching?
Bring your 'UX Maturity' to the next level with supportive UX Coaching for your UX team!
Designing a proper User Experience in an Agile, cross-functional team can be hard some times. However, not only is it in our nature as UX designers to rethink and evaluate our work but also to have valuable information about the user. A clash with Scrum sprints or other workflows designed for a team of developers is very likely. But no worries:

UX Coaching can be a valuable solution for UX designers in an Agile team

Especially when your UX designers are split up in several Agile teams you may have experienced a lack of professional exchange and learning from each other. This is totally normal due to the sprints set by Agile frameworks.
But nonetheless it is valuable to present the own concept to other professionals, discuss it and receive feedback. On the other hand team members learn to give constructive feedback which enriches their ability to rethink their own concepts.
In UX Coaching there are two ways to make sure, that those valuable skills are trained:

Individual UX Coaching
(+) individual support of an experienced UX professional
(+) assistance in the evaluation of concepts and processes
(+) establish an appreciative feedback culture to learn feedback is a good thing
(+) individual coaching appointments fit the coachee's schedule
(+) ad hoc question contingent for the coachee
(+) online coaching sessions
(+) external view on the discussed concept/topic/problem
---
(-) individual coaching excludes group discussion

Small group UX Coaching
(+) guided UX session
(+) UX professionals with different backgrounds can discuss a topic
(+) team members learn to give constructive feedback
(+) UX professionals know the target group
(+) online coaching sessions
---
(-) conditionally satisfying (only the need of one UX designer can be discussed in each meeting)
(-) time effort (feedback preparation of team members is indispensable)
Coaching
The process of training someone to improve the skills they require for a particular sport, job, or activity.

Cambridge Dictionary

e

n

–

d

e

(November 2020)

Book a UX Coaching with me, if…
… your UX team is struggling with the Agile framework
… you want to establish an acknowledged UX team within the company
… you want to enrich processes, concepts, and teams with external input
---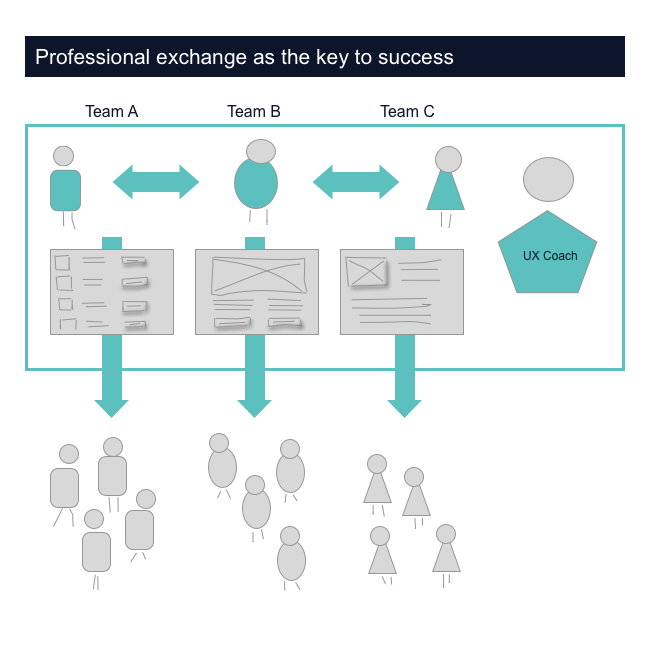 … your UX designers need a sparring partner with some time on her hands
… your UX team needs a little boost from an external motivator
… you want to revive your routines
---